Pre Wedding Shoots – A 2022 Catch Up
Hello lovely people! 2022 has been busy for me so far, with a bunch of lovely shoots booked in. Pre wedding shoots are one of my favourite parts of being a relaxed wedding photographer. I have a blog all about them here, but to summarise, they are a brilliant way for you to get to know your photographer and get comfy with the camera before your big day. You'll also get some epic shots to celebrate your engagement, bless your Instagram followers, and/or add to your wedding invitations! 
I'd like to share a few pre wedding shoots I've had the pleasure of working on, with some bloody brilliant couples. Enjoy! 
Bec & Luke – Winter Walks 
B&L had a winter engagement shoot before their blooming amazing February wedding (blog on that coming soon!). It was one of the foggiest days I can remember but this lovely pair embraced it and we had an ace couple of hours exploring Wollaton Hall. Dreary weather never has to mean dreary photos – We will always make it work!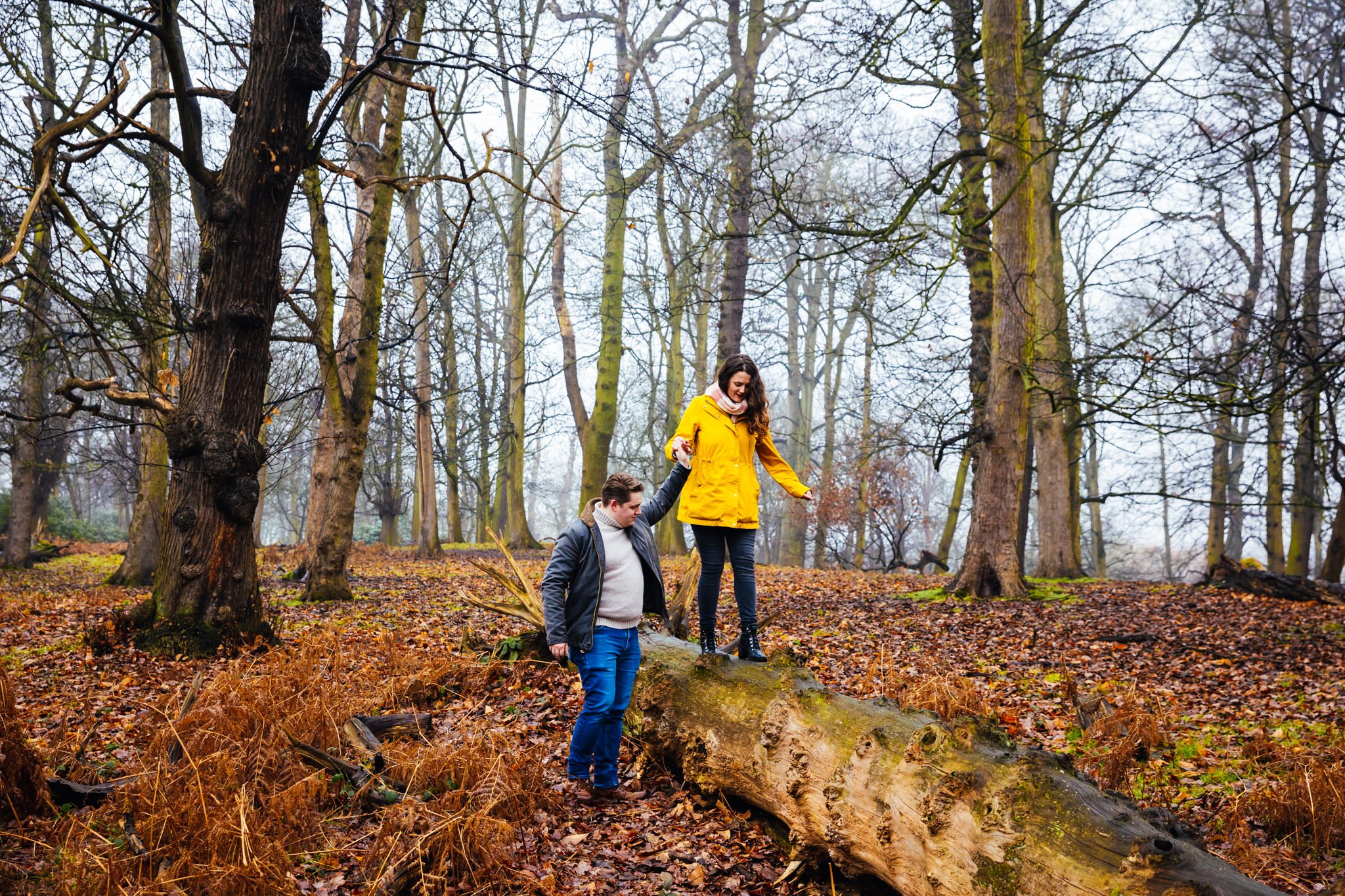 Danielle & Jeremy
– Arcade & Mini Golf Shenanigans
D&J choose to recreate their first date by going to the crazy golf and arcade at The Corner House in Nottingham. We had so much fun – Jeremy even won a free game of golf when he got a hole-in-one on his last shot. They won so many tickets in the arcade we all went home with goodies! (Yep, even me! I got unicorn chewies!) 
Going on a fun date like this is a brilliant idea, especially if you're camera shy. Having something else to focus on, especially if it'll make you smile, means you're not over-thinking having your photo taken. This means I can get some brilliant, relaxed candids! 
Massive thanks to Fun Station & Lost City Crazy Golf for letting us shoot on site.
Hannah & Lora – Springtime Fun
H&L chose to explore Wollaton, too. We were blessed with a pretty Spring day which we very much made the most of. Even after the shoot ended when we stopped for tea and cake, the sun was still shining. It was chilly but blooming beautiful! Look how brilliant they both look! 
A Little Tip:
It's great to compare these images to the more wintery ones taken during B&L's pre wedding shoot. If you're unsure about what time of year you'd like to do a shoot like this, consider what kind of vibe you'd like in your photos. We can't control the weather but there will be a difference in light, leaves on trees and seasonal surroundings. 
Rhian & Reece – Animal Lovers Paradise 
Things got wild when I hung out with R&R at the zoo! I mean we got photobombed by a seal, spent time with the meerkats, ahh'd over the red panda & explored the most gorgeous gardens… We also ate ice cream and watched seagulls steal sandwiches from picnics. 
A Little Tip: Don't be afraid to suggest awesome activities/your favourite places to your photographer for your pre wedding shoot, each of these couples chose something they loved to do and it really shows in their photos. ❤️
Thinking of having a pre wedding shoot? 
Do it, I dare ya! It doesn't have to be awkward poses and staged photographs. You can simply go on a date and bring a photographer (like me!) along to capture you being, well…you! 
If you have any questions about pre wedding shoots, get in touch and we can have a chin wag. I'm all about finding what works for individual couples, because photos should be fun, not terrifying! Slide in my DMs on Instagram or contact me if you wanna make some magic.
Love & sparkles,
Kirsty x