Hidden River Barn Wedding – L&G's Bank Holiday Weekender
I have an absolutely BEAUTIFUL wedding to share with you today! I had the absolute honour of photographing L&G's three-day wedding extravaganza at Hidden River Barn in Cumbria. This bank holiday weekender was full of colour, fun and sentimental moments. This was easily one of the favourite weddings I've photographed as it was right up my street.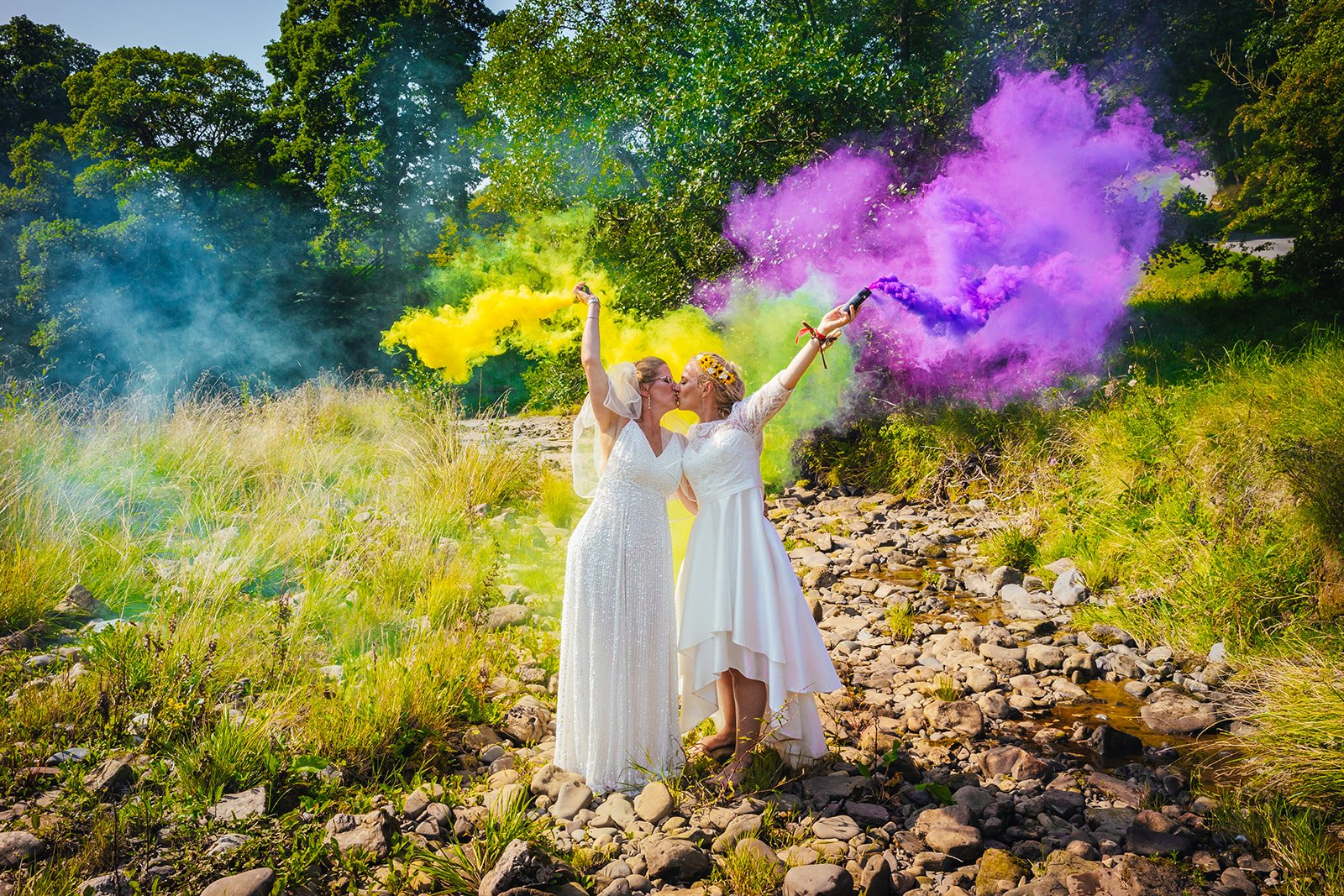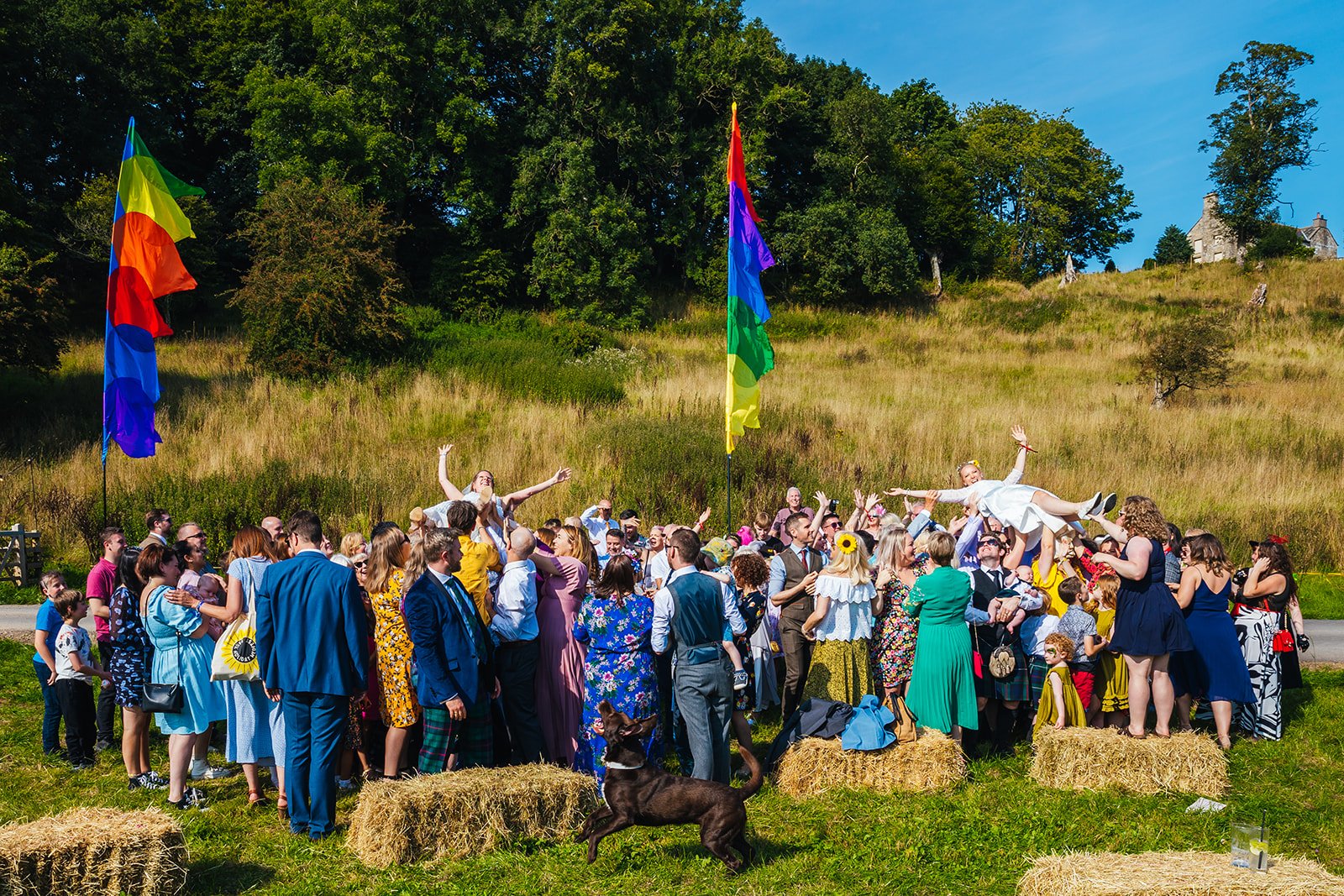 3 Day Wedding Weekend at Hidden River Barn
Why have a wedding day when you can have a wedding weekend?
The Friday was spent getting the glamping set up and the barn decorated. Guests arrived late afternoon ready to spend the weekend partying. 
Saturday was the "BIG" day and the most beautiful wedding. First, I photographed the brides getting ready and the dogs getting dressed up in tutus and tuxedos! Then it was time for L & G's celebrant-led, sunflower-decorated wedding ceremony, with a surprise musical number sung by the guests. (Which may have made me cry behind my camera it was so beautiful) 
The Saturday evening was spent celebrating in the Hidden River Barn, eating some great food, and simply having a good time. You KNOW I was dad dancing with my camera whilst everyone was having the time of their lives. 
They ended the day with a beautiful sparkler exit that was full of joy and laughter and even more awesome dance moves. 
Check out the gallery below! 
Sunday Funday
Sunday was fun, fun, fun! With more of a 'festival meets sports day' feel, L&G hired a bucking bronco, laser quest and a bouncy castle, as well as lawn games and football. They split their guests into teams for a bit of friendly competition, which also included a total wipe out and a tug of war. 
You can see how much these activities made the guests light up. Wedding games are a brilliant way to connect with a bit of childlike wonder and bring both sides of the family together. So much fun! 
Planning a 3 day wedding is no easy feat. A big huge shout out to Linzi at that black and white cat weddings for being a wedding planning extraordinaire. 
Colourful Wedding Photography
L&G's wedding photos make my heart sing! We went down to the river at Hidden River Barn to capture their relaxed wedding portraits, and then they skipped up the road next to the rainbow flags I got some beautiful shots of them twirling around dancing and just being themselves!
It's always important to me that my couples feel comfortable with me, and that I never put pressure on couples to look or pose a certain way. The more fun you have the more joy you'll get from your pictures. 
I also loved doing the group shots for this wedding. We played with colourful smoke bombs (always a yes from me) and we also got these crowd-surfing shots! L&G really got creative with their wedding photos and I had so much fun taking them!
Hidden River Barn – Hello Beautiful 
I'd like to take a second to talk about what a friggin' brilliant wedding venue Hidden River Barn is. The site is so massive and beautiful, with loads of space for glamping, games and marquees. The outside is as lovely as the inside, with plenty of locations for photos. 10/10 would recommend!